Gregorian Schola of the Pontifical Institute of Sacred Music in Rome: "Urbs Beata Jerusalem"
August 22, 2018 @ 7:30 PM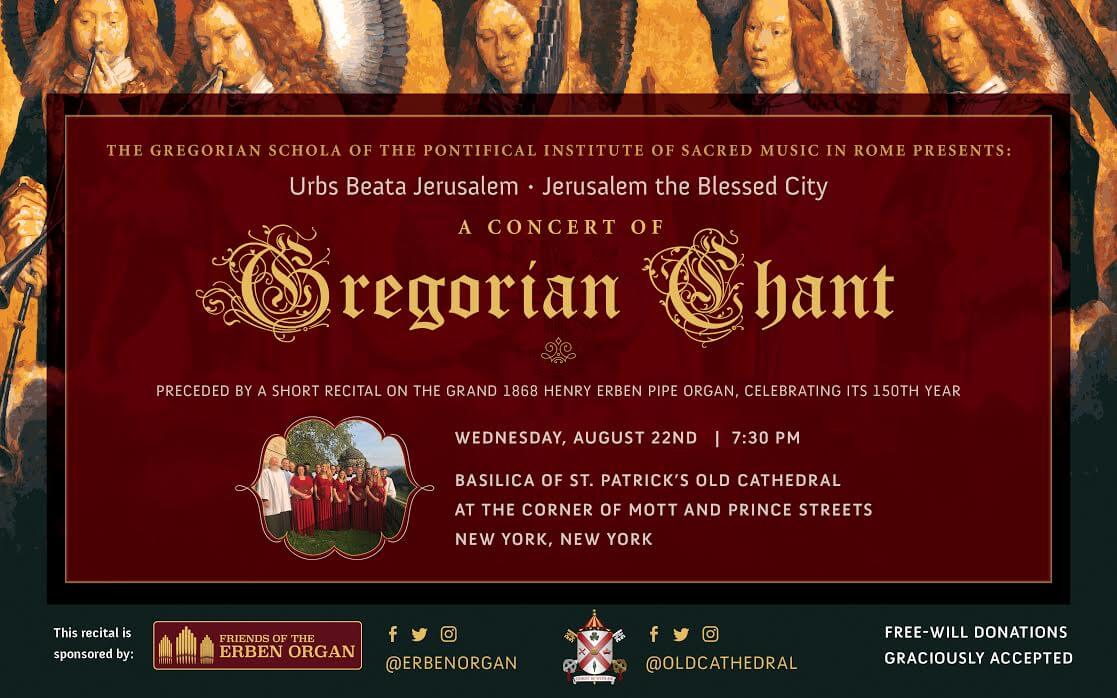 The Basilica of Saint Patrick's Old Cathedral and Friends of the Erben Organ are pleased to host the upcoming August 22, 7:30 PM performance of Urbs Beata Jerusalem – Jerusalem the Blessed City, by the Pontifical Institute of Sacred Music's Gregorian Schola on their first visit to the United States. The concert will be preceded by organ music on the 150th anniversary year of the Basilica's magnificent 1868 Henry Erben organ. Free-will donations will be graciously accepted to help our visitors from Rome offset their travel costs.
The Pontifical Institute of Sacred Music is an institution of higher education of the Roman Catholic Church specifically dedicated to the study of church music. It is based in Rome, Italy, located in the former Pontifical Abbey of St Jerome-in-the-City. The Institute confers the degrees of Baccalaureate, Licentiate, Masters and PhD. The college attracts priests, religious and laity from all over the world, who share what they learn about sacred music upon their return home. 
As part of their studies while in Rome, the Schola chants the Solemn High Mass, in which most parts of the Mass are sung. They also sing on occasion at Papal Masses and at concerts in Rome. The Schola participates in international festivals of Gregorian chant throughout Europe as an evangelization effort.
In the past three years, the Gregorian Schola has performed in Italy, Austria, Spain, Hungary and Bratislava. This spring, they performed in Switzerland and Belgium for the International Festival of Gregorian Chant. The Basilica and Friends of the Erben Organ are excited to welcome the Schola and hear their beautiful sound in America!