A community for music and the arts around a great American treasure.
Adopt-a-Pipe
With 2,500 pipes from which to choose, you and our community of donors can help the Erben make gorgeous music for the next 150 years.
Give
Your donations support a wide range of performance and education programs that take place throughout the year, making our community even more vibrant.
Education
The organ is a magnificent amalgam of art and science. Our hands-on, minds-on education programs combine science, technology, engineering, art, and mathematics (STEAM).
Find out more about the unique history of the Erben organ
New York Times Feature Article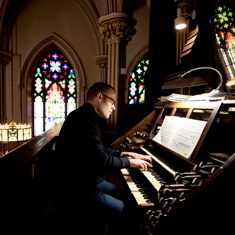 The huge pipe organ in St. Patrick's Old Cathedral, at Prince and Mott Streets in NoLIta, is in startlingly original condition, though a bit worse for 150 years of wear. Jared Lamenzo is so accustomed to showing off this monstrous marvel of an instrument that he can discuss it even while using all four of his limbs to bang out a Bach fugue or Buxtehude toccata. Read More...