Erben Organ Days 2022: Organ Festival
To celebrate international Make Music Day 2022, on June 21 we hosted a mini Erben organ festival, featuring five performances over the course of a beautiful afternoon. Thanks to all who came throughout the day, our volunteers, and our new friends!
Featured organists included Dr. Kalle Toivio, winner of the AGO National Improvisation Competition. He played an arrangement of the monumental tone poem Finlandia by Jean Sibelius, and a live improvisation on three submitted Ukrainian themes. The series also featured newly arranged organ & violin duets by Franck and others, played by Lavinia Pavlish and Jared Lamenzo. Other artists performing that day were Dr. John Wolfe, Yilun Wang, and Lana Krakovskiy. Enjoy some highlight photos and videos from the June 21 Erben organ festival!
Sonata in A: Allegretto ben moderato by César Franck (1822–1890), arr. JL
Jared Lamenzo and Lavinia Pavlish perform at the Make Music Day Erben organ festival, June 21, 2022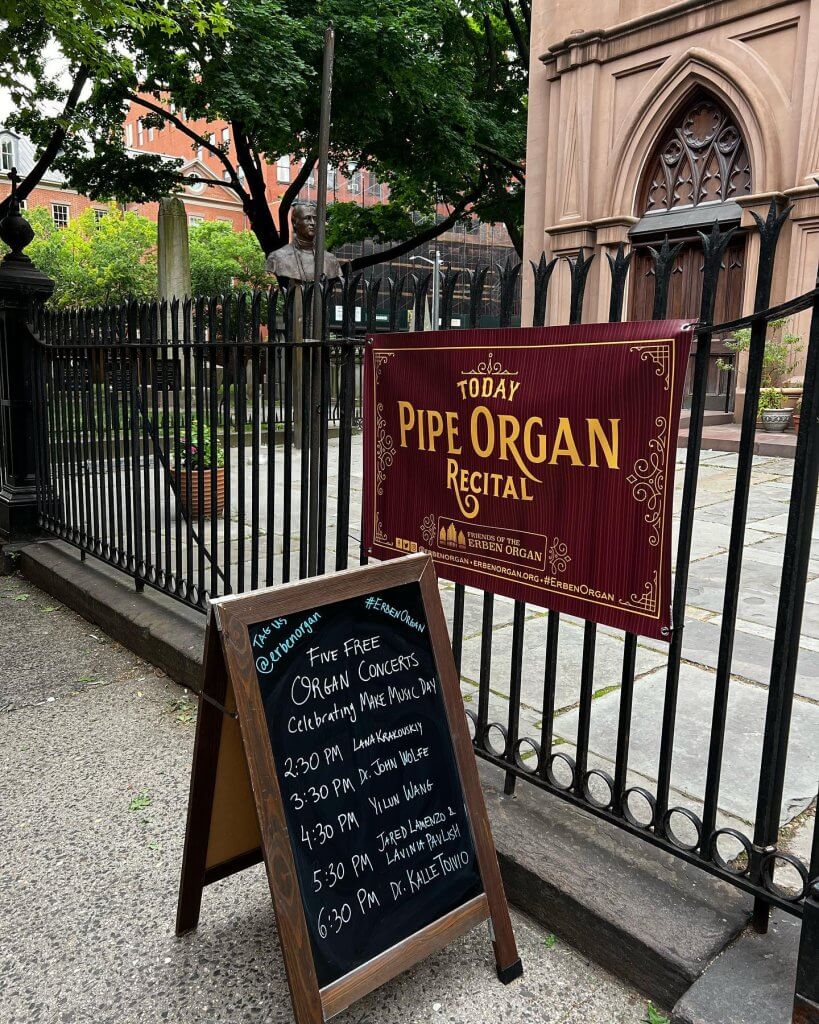 Our chalkboard, shown on on Make Music Day 2022.
Best happy accident I ever stumbled upon!

–via Facebook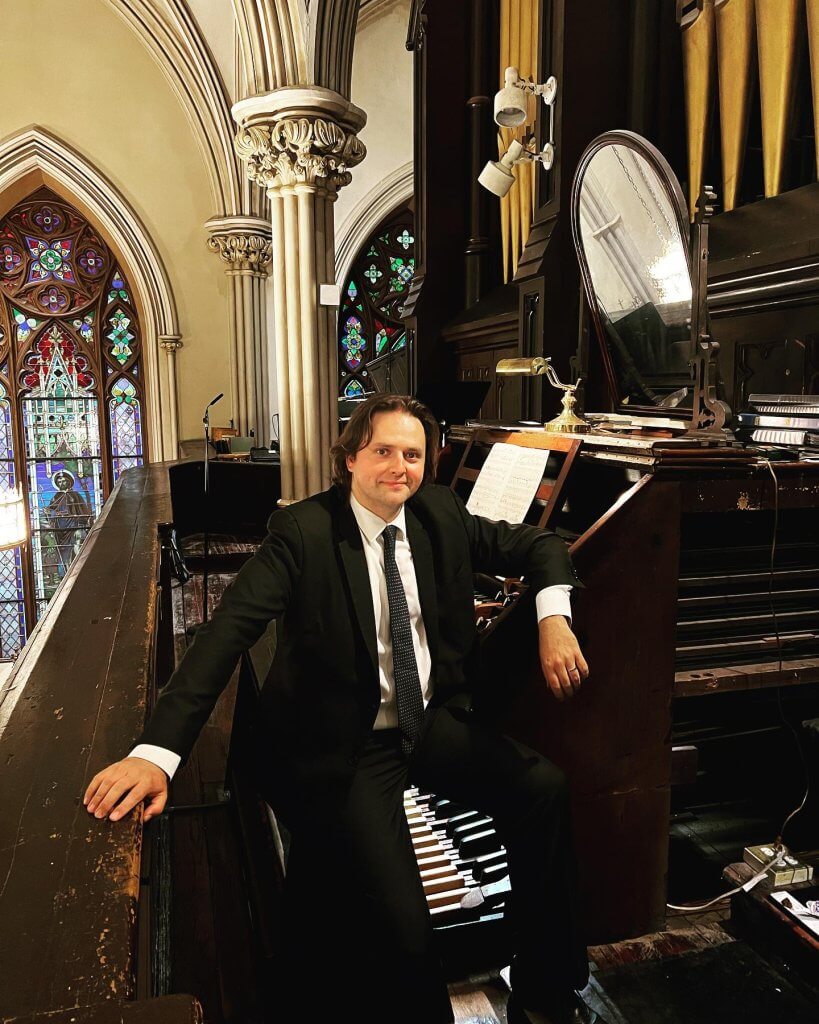 Above: promotional video snippet: Sometimes it takes three feet to operate the Erben – here's a snippet of Yilun Wang practicing César Franck for Tuesday! Watch what happens…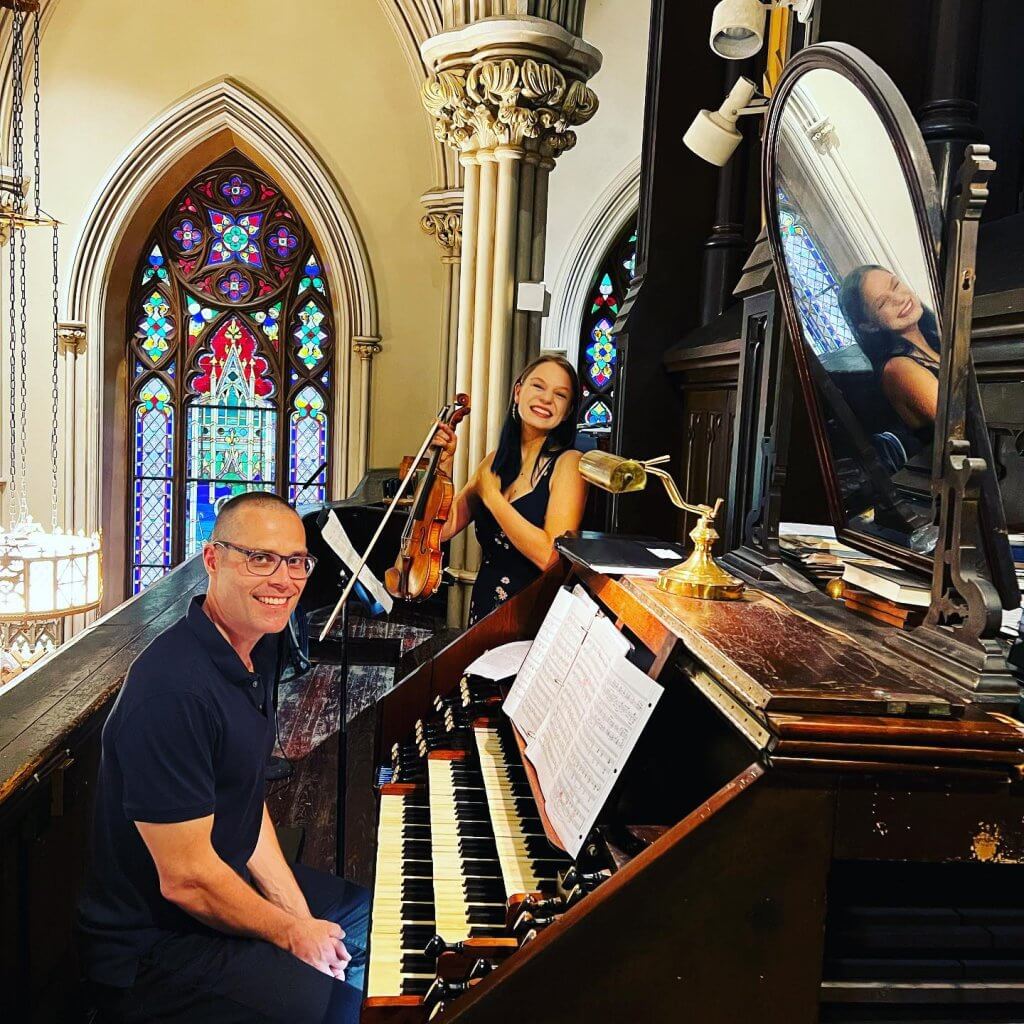 Photo: "Show us that violin!" – Lavinia was asked. Lavinia Pavlish and Jared Lamenzo pose before their performance for Make Music Day Erben festival, June 21, 2022.
From our Make Music Day 2022 organ festival: Dr. John Wolfe plays Suite du Premier Ton by Pierre du Mage (1674-1751)
In this video:
* Plein Jeu
* Fugue
About the music: Pierre du Mage was the organist at France's Laon Cathedral beginning in 1710; the Suite du Premier Ton, dating from 1708, is his only surviving composition. This elegant music is exemplary of the French Baroque organ school in its mature form, making exquisite use of the tonal colors available on organs of that time and place. Intended for use during the Roman Catholic Mass, these pieces would have alternated with the singing of Gregorian chant, and in this case, fragments of the Advent Magnificat chant are woven throughout the musical texture. – Dr. Wolfe
About the artist: Dr. John A. Wolfe is a New York City-based organist, whose career performance highlights have included the Aspen Music Festival in Aspen, CO, the Sunday Afternoon Kilgen Organ Recital Series at St. Patrick's Cathedral in NYC, solo recitals at Central Synagogue in NYC, and an appearance on the Naxos Records release Songs of Peace and Praise: Choral Music from Queens College. He presently serves as Organist and Music Director at St. Philip's Episcopal Church in Brooklyn, NY. Wolfe holds the degrees of Doctor of Musical Arts from Rutgers University, where he studied with Renée Anne Louprette, Master of Arts from the Aaron Copland School of Music at Queens College, where he studied with Walter Klauss, and Bachelor of Arts from Vassar College, where he studied with Gail Archer. Wolfe is a native of Gettysburg, Pennsylvania.
Beautiful. I love working out music on older instruments. And I appreciate every single mechanical click and clack. Just beautiful!

-via Instagram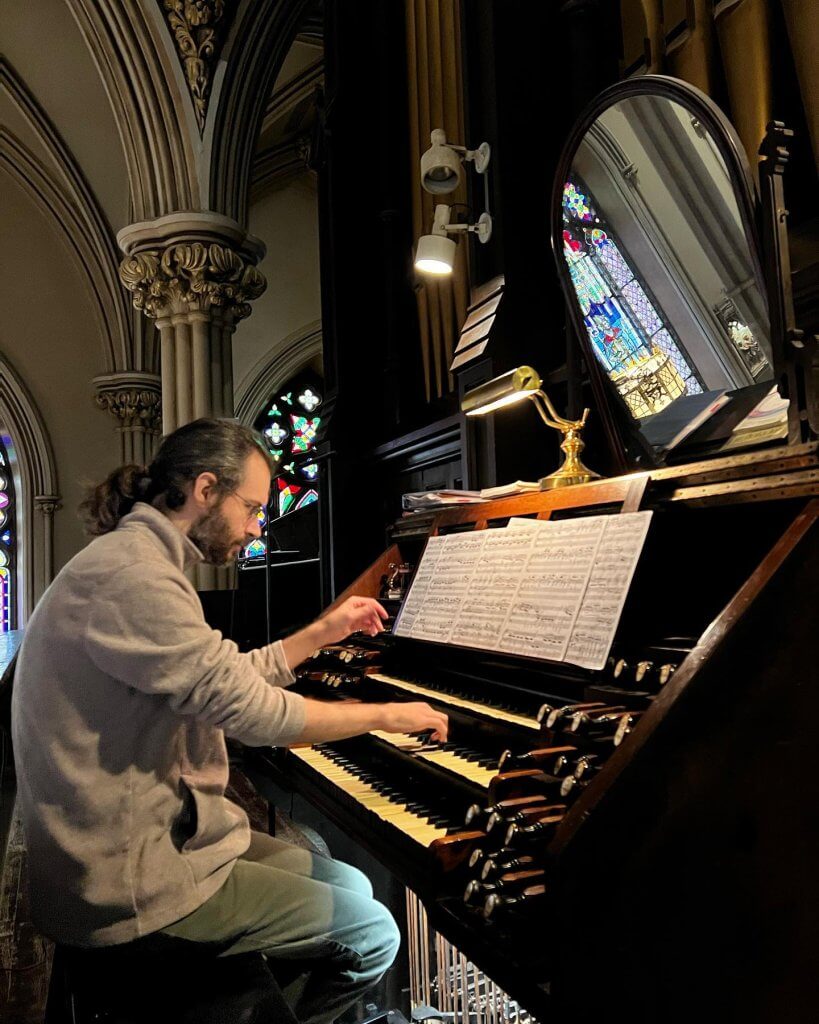 Above: Excerpt: Yilun Wang plays César Franck – Prélude, Fugue et Variation, Op.18, during our Make Music Day Erben Festjval on June 21, 2022
About the music:
César Franck (1822-1890), Belgian-French Romantic composer and organist who was the Titulaire of Sainte-Clotilde church in Paris, was the chief figure in a movement to give French music an emotional engagement, technical solidity, and seriousness comparable to that of German composers. The Prelude, Fugue, and Variation, Op. 18 is the third of the Six Pieces he composed between 1859 and 1862, where he included some of his improvisations after church services. This piece was dedicated to Camille Saint-Saëns and emphasized utilizing the colors of the Cavaillé-Coll organs. The Prélude starts with a melancholy vocal-like melody in oboe, followed by a short, solemn interlude as a bridge to the fugue. After the stretti, the Variation comes immediately in attacca. The melody and harmony were derived from the Prelude, but this time accompanied by a rapid flurry in the left hand. – Yilun Wang
Excerpt: Yilun Wang plays Toccata in G Major by Théodore Dubois.
About the music: Théodore Dubois (1837-1924), was a French composer, organist, and teacher known for his technical treatises on harmony, counterpoint, and sight-reading. Théodore Dubois studied at the Paris Conservatoire, winning the Prix de Rome in 1861. As an accomplished performer, his successes came in various fields: 'pure style' masses, motets, oratorios, symphonies, and chamber music. Of the many organ pieces he left, nearly a hundred, the Toccata in G major, one of his famous pieces, is in the form of a bustling neo-classical allegro, with a central episode of slower notes in B major, and materials from the first section. Afterward, the main theme comes back and ends with the sonorous codetta. -Yilun Wang
About the artist:
Yilun Wang is a pianist and organist living in NYC. Prior to obtaining her Master's Degree in Classical Organ from the Manhattan School of Music, she earned her Master's Degree in Classical Piano from the Manhattan School of Music and her Bachelor's Degree in Piano from the Central Conservatory of Music in Beijing. Yilun has been playing for more than 20 years, has founded a quintet ensemble and published albums in China, and has performed across China and Europe, including the National Centre for the Performing Arts, the Bach House in Köthen, the Royal Academy of Music Aarhus, etc. Her organ teachers have included Walter Hilse, Andrew Henderson, Raymond Nagem, and Katherine Meloan.
For the grand finale, we featured Finnish-American virtuoso Dr. Kalle Toivio.
Above: promotional video: Dr. Kalle Toivio rehearses "Finlandia" on the Erben.
It's like driving a 50's Formula One car!

Kalle Toivio
Above: a thrilling moment in Jean Sibelius' Finlandia played by Dr. Kalle Toivio.
About the music:
Jean Sibelius (1865–1957) composed Finlandia, the most famous of his tone poems, in 1899 as the last of seven pieces to be performed as accompaniment to a tableau of events from Finnish history. After he revised it in 1900, this highly nationalistic piece had to be performed under other titles in order to avoid censorship of Russia. The organ version is transcribed by Herbert Austin Fricker (1868–1943). He served as city organist for Leeds in his native England. In 1917 he emigrated to Canada. Fricker's transcription of Finlandia was published in 1907 by Breitkopf & Härtel.
About the artist:
Kalle Toivio is a Finnish-American virtuoso concert organist and pianist living in New York City. He is the winner of the First Prize at the American Guild of Organists National Competition in Organ Improvisation. The CD-Album of Kalle Toivio Improvisations at St. Ignatius was released by the Pro Organo/Naxos-label in 2019. Kalle Toivio has played recitals in the United States, Europe and Japan, including at the Carnegie Hall. Kalle Toivio is the Organist and Director of Music at the Church of Notre Dame NYC, is in the organ faculty of Manhattan School of Music Precollege and is the Dean of the AGO Finland Chapter. Kalle Toivio received his degrees in Piano and Church Music from the Sibelius Academy in Finland. He received his Master's and Doctoral degrees in Organ Performance from the Manhattan School of Music.
Dr. Toivio's concert was capped off with a live improvisation on submitted themes. Our friends and colleagues submitted three Ukrainian themes to Dr. Toivio. In a fashion hearkening back to the great improvisation performances of 19th century, a sealed envelope containing the improvisation themes was handed to Dr. Toivio right before his performance. See an excerpt of this exciting improvisation, as well the full performance, below.
Erben Improvisation on Three Ukrainian Themes
Dr. Kalle Toivio, First Prize winner of the American Guild of Organists National Competition in Organ Improvisation, improvises on supplied themes on June 21, 2022. This performance was the finale of the Make Music New York Erben Festival, which featured five free organ concerts held on the day.
The Ukrainian melodies sent in by our friends are:
* "Carol of the Bells" is a popular Christmas carol, with music by Ukrainian composer Mykola Leontovych in 1914 and lyrics by Peter J. Wilhousky. The song is based on the Ukrainian folk chant "Shchedryk". Suggested by organist Maria Rayzvasser.
* A violin melody from the second part of a Violin Sonata by Viktor Kosenko, a composer suggested by organist Nadiya Velychko.
* Basso part from the finale from cantata by Mykola Lysenko "Rejoice, Dry Field" (a cantata about the harvest season and prosperity). This cantata was also suggested by Nadiya Velychko, an organist from Lviv, Ukraine, who played an Erben concert in 2021. The finale section has the lyrics "The steppes and the lakes will come alive, free and wide". Lysenko composed the cantata based on the poem "Rejoice, Dry Field" by Taras Shevchenko, national poet of Ukraine.
In June, we marked the birth (6/27) and death (6/30) anniversaries of Venerable Pierre Toussaint, whose family is still buried in the Basilica's cemetery (he himself was moved to the new Cathedral). Pierre, born into slavery in Haiti, became a great benefactor and helped build the Cathedral and the orphanage across the street run by the Sisters of Charity, in addition to his support of a great many other charities. Well-educated, he entertained guests with his violin, along with his niece, Euphémie, who studied pianoforte with Raymond (perhaps Richard) Meetz, a Frenchman who claimed to be a pupil of Mozart. Meetz was a musician, composer, publisher, and teacher; through him and his daughter Cesarine Meetz, Euphémie was likely exposed to the latest popular French music, such as that of François-Adrien Boieldieu (1775-1834). Boieldieu was known as the "French Mozart", and his operas were immensely popular; Euphémie played one of his opera overtures, which we presented at our June 21 recital in arrangement for violin and organ.
Overture from "Le calife de Bagdad" by François Adrien Boieldieu (1775–1834), arr. P. Werlein, New Orleans
Jared Lamenzo and Lavinia Pavlish perform at the Make Music Day Erben Festival, June 21, 2022.
See the full video at the link.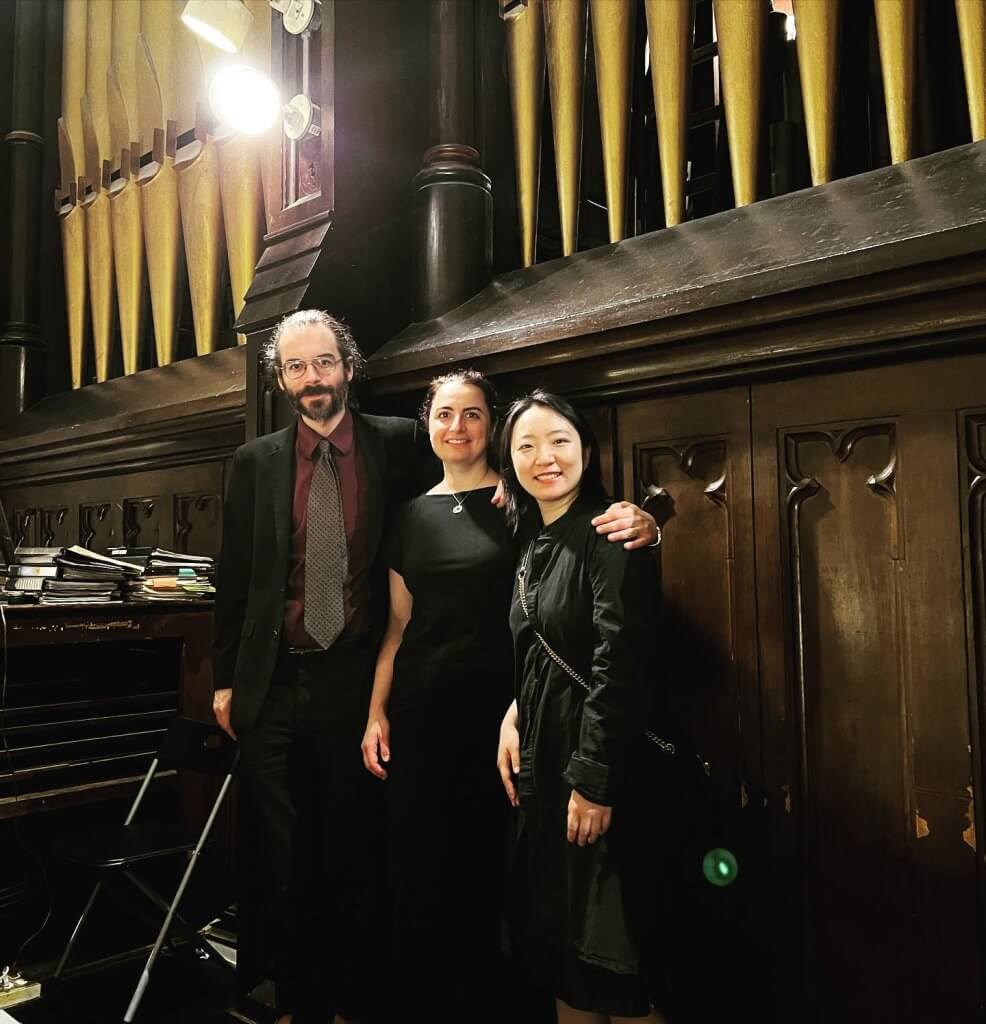 Concert Program: June 21, 2022
2:30 PM: Lana Krakovskiy
Samuel Scheidt (1587–1654): Allein Gott in der Höh sei Ehr, SSWV 559
J.S. Bach (1685-1750): Allein Gott in der Höh sei Ehr, BWV 662
Emil Sjögren (1853–1918): From Legender (Legends) Vol. 1, Opus 46
I. Andante con devozione
II. Moderato con gravità
VI. Larghetto con dolcezza
XI. Andante misterioso
Samuel Scheidt (1587–1654): Vater unser im Himmelreich, SSWV 104. Verse 1
J.S. Bach (1685-1750): Vater unser im Himmelreich, BWV 683
Carlotta Ferrari (b. 1975): Campanarium
3:30 PM: Dr. John Wolfe
Pierre du Mage (1674-1751): Suite du Premier Ton
Plein Jeu
Fugue
Trio
Tierce en taille
Basse de Trompette Récit
Duo
Grand Jeu
Dieterich Buxtehude (1637–1707): Three Chorale Preludes
Ich ruf zu dir, Herr Jesu Christ (I Call to Thee, Lord Jesus Christ), BuxWV 196
Ein feste Burg ist unser Gott (A Mighty Fortress Is Our God), BuxWV 184
Nun lob, mein Seel, den Herren (Now Praise, My Soul, the Lord), BuxWV 214
4:30 PM: Yilun Wang
Dieterich Buxtehude (1637–1707): Praeludium in G Minor BuxWV 149
César Franck (1822–1890): Prélude, Fugue et Variation, Op.18
Théodore Dubois (1837–1924): Toccata in G Major
5:30 PM: Jared Lamenzo, Organ and Lavinia Pavlish, Violin
César Franck (1822–1890), arr. JL: Sonata in A: Allegretto ben moderato
César Franck (1822–1890), arr. JL: Fantaisie in A from Trois pièces pour grand orgue, 1878
François Adrien Boieldieu (1775–1834), arr. P. Werlein, New Orleans: Overture from "Le calife de Bagdad"
6:30 PM: Dr. Kalle Toivio
Jean Sibelius (1865–1957): Finlandia, Op. 26
Improvisation on Submitted Themes