Henry Erben's 222nd Birthday Celebration
Renowned New York organ builder Henry Erben turned 222 in 2022! With St. Patrick's day coming, on March 10, 2022, we featured some soulful and festive Irish music and refreshment.
This in-person celebration included:
Music program with the premiere (on organ) of Carson Cooman's A St. Patrick Silhouette
Baritone Paddy Connolly, from Ireland, will sing favorite Irish tunes with the organ, in anticipation of upcoming St. Patrick's Day. Mr. Connolly has performed at St. Patrick's Cathedral and with Riverdance Broadway and Riverdance The World Tour.
Saxophone player Eddie Barbash performed Irish reels and more with the Erben. Mr. Barbash is a founding member of Jon Batiste Stay Human, the house band for The Late Show with Stephen Colbert.
Up-close Erben organ tour: a look inside our 154-year-old pneumatic computer
An Irish-inspired punch to refresh all the senses!
Irish Reel and "She Moved Through the Fair", traditional Irish ballad. Jared Lamenzo, organ, Eddie Barbash, saxophone, and Paddy Connolly, Baritone.
It was a beautiful event! Really special to hear the music, visit the space and learn about the organ. The Irish snacks and drinks were a nice touch as well, I felt very welcome. Look forward to more events. Thanks! — audience member

This year's celebration included a premiere (on the Erben) of Carson Cooman's A St. Patrick Silhouette (2020).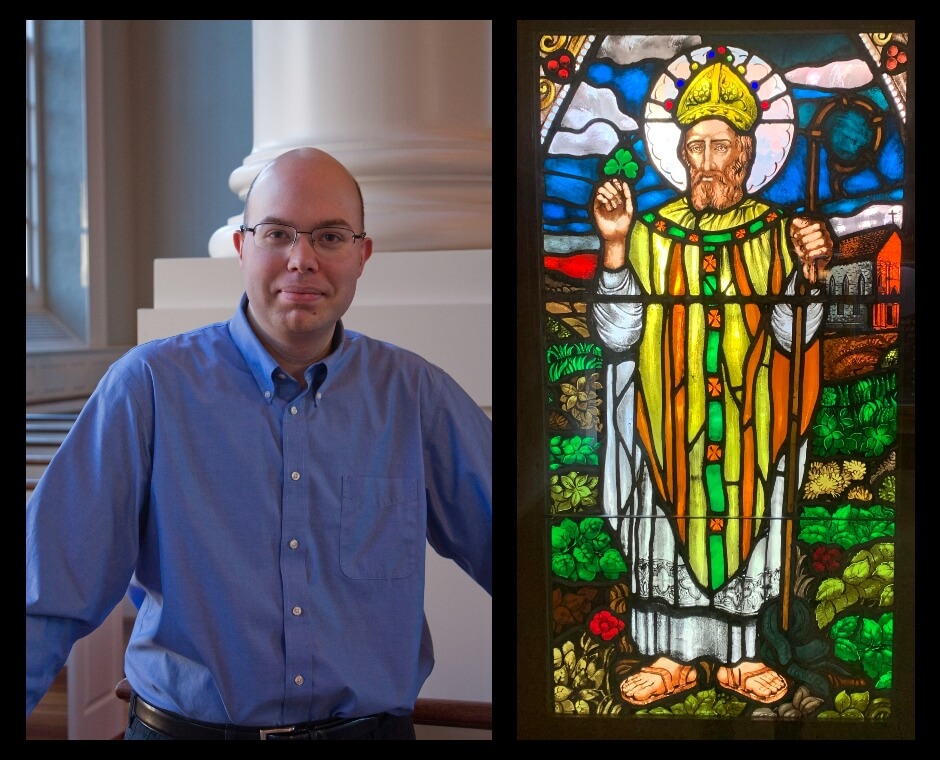 "The piece was commissioned by Artis Wodehouse and the Friends of the Erben Organ, Basilica of St. Patrick's Old Cathedral, New York, New York. The music is based on sections of the plainchants appointed for the Feast of St. Patrick, Bishop and Confessor. The moods of the piece are drawn loosely (and non-programmatically) from remembered stories of his life." —Carson Cooman, Composer in Residence, Harvard University Memorial Church
After mingling and enjoying Irish refreshments, guests visited the Erben up in the organ loft for an up-close demonstration by Jared Lamenzo. Enjoy photos from the event, below.