First Annual San Gennaro Organ Recital
Some zeppoli or cannoli with your Frescobaldi? The Friends of the Erben Organ presented its first annual San Gennaro Organ Recital on September 15, 2017 to accompany the 91st annual Feast of San Gennaro.
Kevin Birch, from St. John's Organ Society in Bangor, Maine and the University of Maine, performed a program of Italian organ music. He was accompanied by the Basilica Schola under the direction of Jared Lamenzo, Basilica Organist and Director of Music. Kevin and Jared also played a duet, pitting the 1868 Henry Erben organ against the 1859 Hall & Labagh chancel organ for the first time ever–a fun, beautiful, and unique pairing of instruments not heard anywhere else.
Every year, the street festival brings tens of thousands to Mulberry Street and Little Italy. The Basilica is the northern terminus of the festival, and it presents Italian opera music and other performers on its steps. This year, FREO brought some of the crowds in to hear the timeless sounds of both of the Basilica's 19th century instruments, built just down the street from the Basilica. Kevin has performed organ recitals in the United States, Canada, Europe, Scandinavia and South America and is especially devoted to the many fine historic organs in Maine, and has performed for several national conventions of the Organ Historical Society.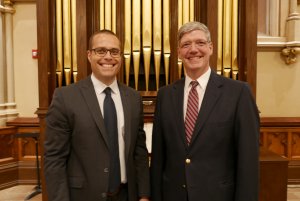 Part I of the recital featured Kevin on the Hall & Labagh playing the works of Italian composer and organist Girolamo Frescobaldi (1583-1643). He was joined by the Basilica Schola on Frescobaldi's Ricercare, a musical puzzle in which the voices complete the polyphony, as well as versets of the Marian hymn Ave Maris Stella. The duet, Sonata in F "a due organi," was written by Gaetano Piazza. Part II of the recital featured Kevin on the Erben organ playing anonymous 18th century works from a collection in the music library at the Cathedral of Pistoia.
The inaugural evening concluded with a standing ovation from the audience, and FREO looks forward to next year's program.
-Photo at top by Joshua South
-Photo of Kevin and Jared by Mark Bussell