Sistine Choir Tours Erben Organ
September 15, 2017
As part of their historic tour, the Sistine Chapel Choir visited the Basilica and the Erben organ. It was the first time in 30 years the Sistine Chapel Choir, known as the Pope's choir, has visited the United States.
With its origins in the 7th century, the Sistine Choir is the oldest choir in the world and performs for the Holy Father's liturgies. On their day off, they toured the New York's sites, with a special stop to tour the Basilica. Arriving tired and hungry, they had a pizza lunch from the nation's first pizzeria, Lombardi's, established in 1905. Members of FREO and the parish were on hand to greet the boys, their adult guardians, as well as their Director, Maestro Palombella.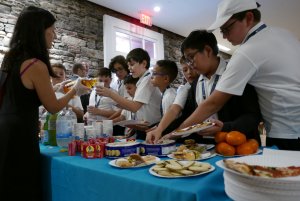 After lunch, they toured the historic Catacombs under the Basilica, led by Tommy of Tommy's Tours. The highlight of their visit was a climb into the choir loft to hear one of the most important historic instruments in the nation: the monumental 150-year-old Henry Erben organ built for the Basilica, still intact and in its original space.
As the boys joined Basilica Organist and Director of Music Jared Lamenzo to hear the instrument's gorgeous sounds, one young chorister played a duet with Jared. After their impromptu performance, the rest of the choir cheered, "Bravo, bravo!" and gave them a hearty round of applause. After that, they visited the sheep in the churchyard before heading off to their next stop. It was a real joy to welcome them to the Basilica, and great fun!

Thanks to Mark Bussell for the photos, and Joshua South and Vinnie Grasso for the video.